Orion Takes Second Place at the Dublin Blockchain Hackthon
The second anual Dublin Blockchain Hackathon was a huge success again this year! 12 teams and over 150 people competed for a €5k first prize. Our team, team Orion, came in second!
Orion is a global augmented reality cryptocurrency treasure hunt (think: Pokémon GO but instead of searching for charzards you're searching for bitcoins). We built Orion on the Ethereum blockchain so we could have multistep treasure hunts where players travel around a city finding prizes along the way. Ethereum allowed us to program treasure hunt rules into smart contracts directly on the blockchain.
For our MVP we built a murder mystery scavenger hunt. The clues lead players around Dublin searching for a lost painting. For our MVP we paid out Ether. In later iterations payouts could be smart assets such as tokens for beer or coffee at local pubs and coffeeshops.
We had a well balanced team of developers, designers and business people from from Ireland, France, Poland, The Netherlands, and the USA.
The Orion team was proud to take second place winning us €2k!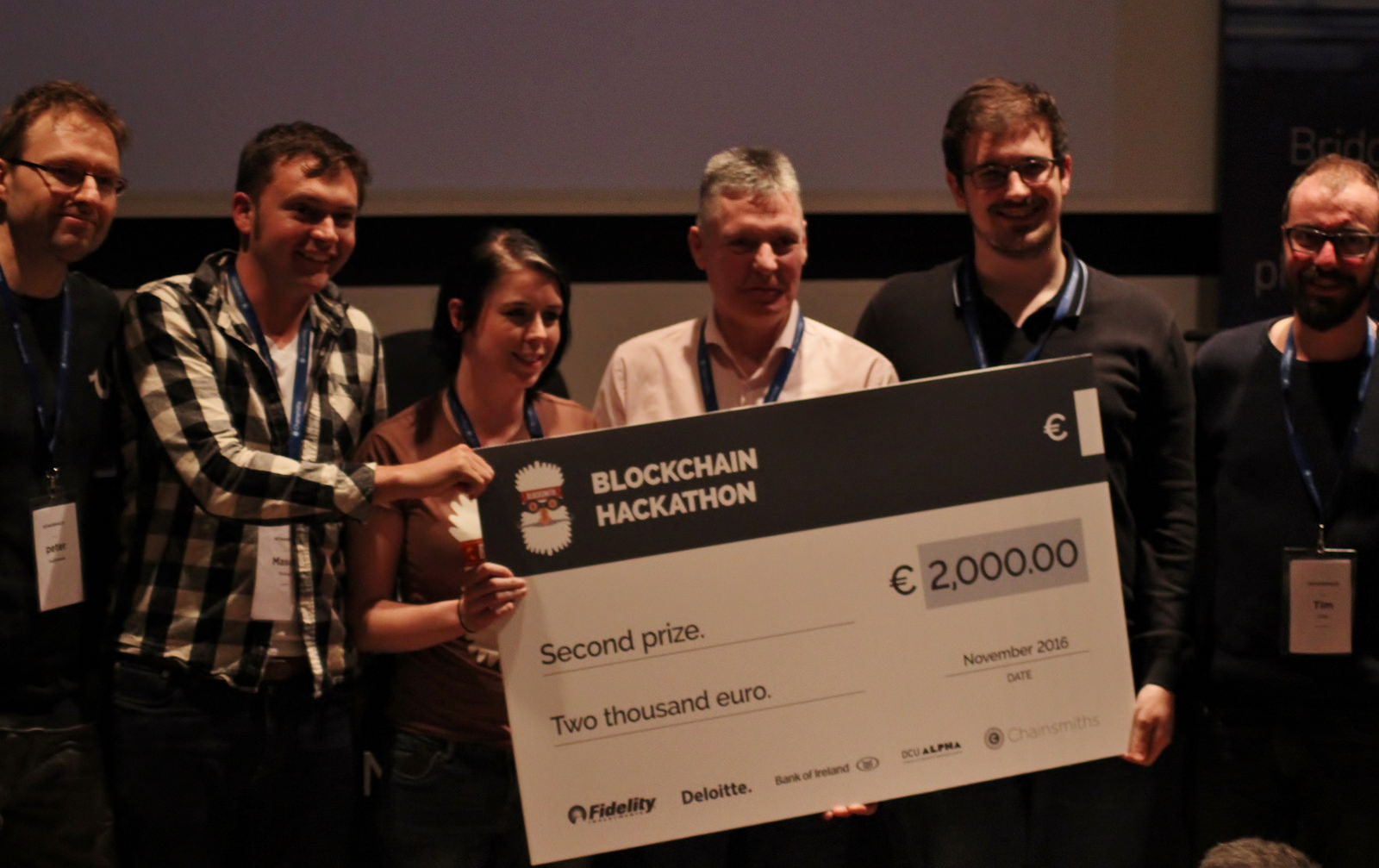 We all had a blast and can't wait for next year!
The source code is available on GitHub.
Our individual info is listed below:
Mason Fischer
Email: mason@kissr.co
GitHub: https://github.com/masonforest
LinkedIn: https://www.linkedin.com/in/masonforest
Company: thoughtbot
Availibilty: Available for hire through thoughtbot
Tanya Branagan
LinkedIn: https://www.linkedin.com/in/tanyabranagan
GitHub: https://github.com/tinyweasel
Peter Budkowski
Email: busypeter@live.com
GitHub: https://github.com/busypeter
LinkedIn: https://www.linkedin.com/in/peter-budkowski
Tim Colla
Email: tim.colla@marinosoftware.com
Seamus Cantillon
Email: seamus@marinosoftware.com
Alexandre Stachtchenko
Email: alexandre@blockchainfrance.net
Linked: https://www.linkedin.com/in/alexandre-stachtchenko-27655655
Enda Moore
Email: endamoore@gmail.com
GitHub: https://github.com/EndaMoore
LinkedIn: https://ie.linkedin.com/in/enda-moore-40830818